Motor
We offer four different types of slotcar motors. All motors can be ordered without pinion or ready to run for different motor configurations.


The smallest one is the FF050. This motor ist used in the new Carrera F1 and in the Fly F1 cars.




The most time used motor is the FC130. This one is used in neary all Carrea 1/32 and Scalextric slotcars. IT can be used as sidewinder as well as inliner. The motoraxle is on both side for universell usage.



FK180 are the bigger ones, which have most time much more torque then other sizes. FK180 are used most time as anglewinder, but can also be used as inliner.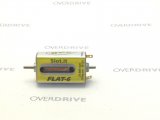 FK180 Flat is a flat version of an FK180, specially used for very low LMP cars. It can be used in all cars using an FK180 if they have an adapter for the FK180 Flat.
Page 1 of 2
Items 1 - 21 of 27
---